How to Connect Your New HDTV Properly
Your
new set is in place
, you've got your DVR ready, and
your service for HD signals is set up
. Now you have the hard task of connecting all the pieces together. Using just any available cables isn't the best choice, though. These will tips help you figure out how to choose the best HDMI cables, how to make sure that all the wiring doesn't take over your living room, and how to pick the best universal remote to manage your new home theater.
Connect via HDMI
For the best picture quality, you should connect all high-definition sources via HDMI. (With some older components, you can use an HDMI converter cable plugged into a DVI port, along with a separate audio cable, since DVI carries only video.) Multiple HD sources, though, may put a strain on your TV's available HDMI ports, since most new HDTVs have only three such ports.
This Iogear switching box gives your HDTV setup additional HDMI ports.
To work around that limit, you can add an external HDMI switcher box, like those from
Gefen
,
Iogear
, and
OPPO
, or an
audiovisual (AV) receiver
. If you will also be adding a surround-sound speaker system (as you should), an AV receiver makes the most sense (jump to "
Pick the Right AV Receiver
"--you'll need to scrool down the page). If all you need is a switcher, make sure you get one that supports the latest version of HDMI. As of this writing, the standard is HDMI 1.3a Cat 2, which supports the Dolby TrueHD and DTS-HD Master Audio bitstream audio formats found in Blu-ray discs as well as the deep color features of the latest HDTVs.
Coming soon, however, is
a new standard, HDMI 1.4
; look for HDMI 1.4 products to start trickling out late this year. This standard adds support for major new features such as digital cinema 4Kx2K resolution; a 100-megabits-per-second ethernet channel between HDMI-connected devices; an audio return channel; extended color spaces; and 3D. While you won't be able to take advantage of most of these features for a while, being ready for HDMI 1.4 when it becomes available will help future-proof your setup. In any case, it's important to check the version number on HDMI cables, since they are not always specified clearly, and you won't get the added benefits of connecting HDMI 1.3 devices if you are using an HDMI 1.2 cable.
If you still have some video sources that don't have HDMI ports, such as VCRs or older game consoles, be sure to use the highest quality connection available. For example, you may have had some analog sources hooked up via composite cables to your old TV. In your new system, switch to an S-video or component connection if possible. In order of preference, video connection options are: HDMI, DVI, component RGB, S-Video, composite.
Illustration: Jason Schneider
Choose the Right Cables
The right cables can definitely make all the difference to your picture, but really expensive cables don't necessarily give you a better picture. Inventory your system to determine what cables you need to hook up all your sources at their maximum resolutions. Then go online to buy them; you'll pay a fraction of retail prices. Hands-down, our favorite such site is
MonoPrice.com
, which has top-quality cables for relative peanuts. Even better, this online merchant has a huge selection of lengths (and colors), so you can get exactly the length you need and avoid tangles of extra wire drooping behind your TV stand. When you're shopping for HDMI cables, look for high-speed HDMI 1.3a Cat 2 specs, at least until HDMI 1.4 cables become available.
Tame the Wires
Buying cables of just the right length is a good start on taming the mass of wires behind your system, but there's more you can do. For running ethernet, speaker wire or coaxial cabling along baseboards and picture rails, try paintable wiring products like
Wiremold CordMate
, which can blend right into your decor.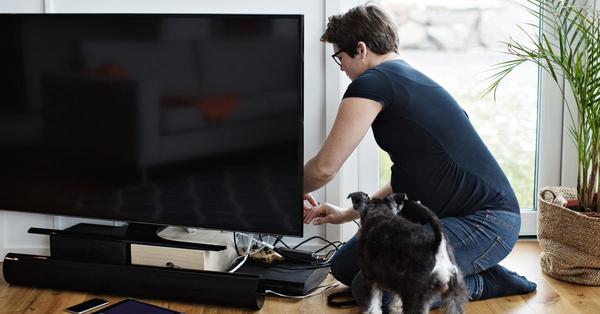 Techflex sleeving
can round up the wires dropping behind your system, and plain old zip ties can work miracles in keeping cords in their place.
Wiremold Cordmate cables can blend right into your decor.
While you're at it, label both ends of all your plugs and connectors so that you can identify them quickly and reconnect things more easily. Our favorite labels are
Hosa Technology's 60-pack of stick-on vinyl labels
(about $12), and Kableflags'
reusable plastic flag labels
(about $25 for a pack of 50; $6 or $7 for a pack of 10).
Deliver the Internet to Your Home Theater
These days, almost all new home theater components can connect to the Web, including DVRs, Blu-ray players, AV receivers, game consoles, media players, and Slingboxes--as well as many of the TV sets themselves. By the time you connect everything up, you could fill an 8-port ethernet switch.
Some of these devices may have wireless connectivity options, but we strongly recommend making a wired network connection to your home theater. Multiple devices competing for wireless bandwidth is a recipe for poor performance, even with 802.11n, and there is nothing worse than watching a movie that stops and starts because the signal drops out.
A single ethernet cable that runs from your router to an inexpensive five- or eight-port switch in your home theater can connect all your devices. And
flat ethernet cables
are available to minimize any damage to your walls.
Powerline networking
is another good option that requires no new wires.
Linksys's PLK300 Network kit connects four home theater devices to the Internet.
The main difference between an ethernet and a powerline connection is bandwidth. You'll be divvying up approximately 100 megabits per second of bandwidth among your devices with a powerline connection, compared with nearly 1000 mbps with a gigabit ethernet connection. The choice depends on how many network operations you expect to run at one time. If you want to download torrents to your media server at the same time as streaming out your Slingbox or watching movies streaming in from Netflix, invest in ethernet.
Escape Remote Control Hell
By the time you install your TV, cable box, DVR, DVD or Blu-ray Player, AV receiver, and media player (not to mention your old VCR), you can end up with an impossible number of remotes for them all. Most flat-panel TV sets come with capable universal remotes that can be programmed for basic control of your peripherals, but their functionality may be limited, and you will probably have do a lot of pointing and clicking to set it up.
Logitech's Harmony One universal remote is numero uno among such devices.
Happily, one remote exists that can indeed rule them all: the
Logitech Harmony One
. This is the gold standard in universal remotes, with a great combination of touchscreen and buttons, all programmable from your PC. If the Harmony One is too pricey, plenty of lower-cost options are available. One good strategy is to keep the custom remote for the device you use most often, such as your DVR, and program a universal remote for everything else.
Finally, if you want to hide your components in a cabinet, add an
infrared repeater like the Salamander Chameleon Kit
to capture signals from your remote and send them to your devices.
This story, "How to Connect Your New HDTV Properly" was originally published by
PCWorld
.
Note: When you purchase something after clicking links in our articles, we may earn a small commission. Read our
affiliate link policy
for more details.