Huawei FreeLace review: Good-looking workout ready wireless buds that lack a little oomph
The slow and drawn out death of the traditional headphone port means that even heading to the gym we need a solid pair of workout wireless buds — which is where the Huawei FreeLace earbuds come in.
Having a solid pair of earbuds solely for working out might seem an indulgence, but sweat, strain, and the general rigors of the gym (or any other workout) puts a different wear on your headphones compared to simply listening during a normal day.
That means things like water, sweat, and dust resistance tend to be key and it's the reason that headphones tend to come in weird and wonderful shapes, sizes and fits. It does mean that we sometimes see gym-goers wearing wireless headphones or earbuds connected via a tether.
That is the design that Huawei has adopted for the FreeLace earbuds. As a genuine everyday user of the Samsung Galaxy Buds, just how does this cheaper, sports-focused option stack up?
Design & Hardware
TETHERED WIRELESS EARBUDS
The last pair of wireless "sport" headphones I have personally owned happened to be the Anker SoundBuds Curve earbuds. I simply wanted a cheap and cheerful pair of Bluetooth headphones for the gym and cycling to and from the job I had at the time.
I couldn't get over the uncomfortable — but secure — over-ear clip style. Luckily, the Huawei FreeLace buds haven't opted for that awful clip option. I say "awful" as I have particularly large ears and do struggle to find headphones, and by extension, earbuds that fit well in that style.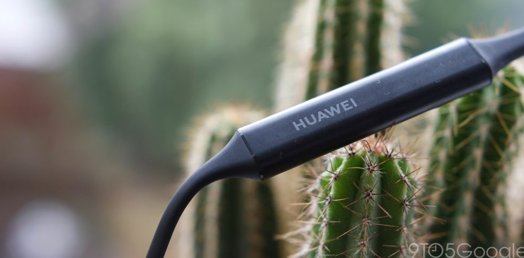 The simple design is not something I would consider to be a trademark of Huawei. The FreeLace buds are very minimal and are pretty sleek in the black color at least. Not being loud and proud is something I am a fan of with certain tech accessories — headphones or earbuds being one such accessory — so I'm pleased that Huawei opted for a simple design.
You get two extra pairs of bud tips in addition to the standard option that comes pre-installed. I found the pre-installed tips to be the perfect fit, but the sound isolation wasn't exceptional so settled for the largest of the three pairs to get better audio isolation.
I will say that I am a little disappointed that there is no carry case or even a pouch within the packaging. You'll have to pick up one of your own to protect the cable from nicks and potential stretching. Stretching might prove to be something you will be wary of, as the cable actually detaches about two-thirds of the way along to reveal a USB-C connector.
This connection is the only way to charge the Huawei FreeLace earphones. You snap the cable apart and then plug the USB-C cable into the bottom of your device to juice them up. Is Huawei Freelace Wireless Bluetooth Earphones easy to use? It's a neat way of charging, as you wouldn't usually be without your device. There is also an adaptor in the box that converts from USB-C to USB-A which does allow you to charge via a plug or PC — but let's be real for a second — that is nowhere near as cool as charging up via your phone.
· Samsung Galaxy Buds review: Almost essential Android earbuds [Video]
Back to that cable, and this is where I think that the design is much better suited to activity in general. As infrequently as I head to the gym nowadays, the ability to remove one earbud and then have it hang down your chest without completely dropping it is especially valuable. Whereas the Samsung Galaxy Buds solve this by using a screw-in style fin, they aren't quite as comfortable for extended wear as a result.
Plus drop a solitary bud and you run the risk of doing damage to them. That could result in breakage quite easily, but the tethered together nature of the FreeLace earbuds negates this risk altogether.
When worn, I found the cable that runs around the back of your neck pretty comfortable. The inline controls and what I guess is the battery and tech pack both worked well to balance the cable without it feeling weighty or uncomfortable. Naturally, that cable will attract sweat at the back of your neck when you do go and workout.