10 Easy Ways to Add Subtitles to Video on Windows and Mac
The story talks about social inequality between the wealthy and those who serve them in Korea.
Gonna watch this Oscar-winning flick at Friday night but don't know Korean? No worries.
Thanks to decades of development on digital entertainment, subtitles are easily accessible to us. And you can enjoy the film without effort.
But do you know how to add subtitles to videos as a content provider, freelancer, marketer, etc.?
Parasite with English Subtitles
Why Add Subtitles to Videos
Apart from watching Oscar-winning film effortlessly, you have these reasons to subtitle your video.
Subtitling makes your content accessible to those who are deaf and hard of hearing.
Subtitling opens up your content to international populations, ESL (English as a Second Language) students, new readers, etc.
Subtitling allows your audiences to watch your video with the sound off, which is a workaround when one is in a noisy or crowded place.
How to Add Subtitles to a Video Permanently
To add subtitles to a video permanently, you need to use hard burn subtitles as the output format instead of using soft subtitles.
Hard Burn Subtitles VS. Soft Subtitles
Soft Subtitles: Subtitles can be turned on and off as a standalone track.
But the problem is soft subtitles are not available without a compatible media player, especially in online video-sharing platforms.
If you are looking for a
subtitle editor
to add subtitles to video, we've carefully picked 3 applications for your reference in this part.
#Adding Subtitles to Videos Using VideoProc.
VideoProc - owns a wide range of practical features in subtitles and is easy to master.
More so, it has bonus features that can help you cut, split, crop videos,
extract subtitles from MKV
and many more.
VideoProc
- The Best Way to Add Subtitles to a Video.
Ease of use. Add subtitles to MP4, MKV, MOV, AVI in a few clicks.
Customization. Enable you to adjust the hard subtitles' position, font type, font color, and font size displayed on the video.
Intelligence. The built-in subtitle downloader allows you to
download subtitles
of any programming and add to the video.
Speed. Supported by Level-3 hardware acceleration technology, VideoProc speeds up the subtitle encoding and decoding process to the fullest extent possible.
Free Download
For Win 7 or later
Free Download
for Mac OS X 10.6 or later
Step 1. Prepare at least a video and a subtitle file
VideoProc supports a wide range of video coding formats and three types of subtitle file – ASS, SSA, and SRT.
Step 2. Launch VideoProc and Load a video file
After downloading VideoProc on either Windows or macOS, Launch it on your computer.
And then click
Video
at the main screen > To import video files, you can click
+Video
or
+Video Folder
at the top ribbon or drag and drop the video file into the window directly.
Choose an output format according to your needs in the lower area.
Import Video Files to VideoProc
Step 3. Add subtitles to video
Click
Subtitle
on the editing toolbar and a subtitle editing panel pops up > Select
Add Subtitle File
and choose a subtitle file you prepared.
To hardcode subtitles to a video, place a checkmark in the box of
Burn-In
> Adjsut subtitle positions, select a good-looking font, font color, and font size >Click
Done
at the bottom right corner.
Add Subtitles to Video Permanently in VideoProc
Step 4. Export the video
After subtitling the video, select an output directory and Click
RUN
to get the conversion started.
Export the Captioned video in VideoProc
#Adding Subtitles to Videos in HandBrake.
However, there are some things I dislike, such as you cannot adjust the subtitle font, position, color; cannot preview the output video; conversions can be very slow, etc.
Anyway, it's a free application worth trying. Let's check the how-to guide in the following.
Step 1. Download and install the HandBrake to your computer
Step 2. Launch HandBrake and select the options at the sidebar to import a folder or an individual video file, or drag and drop a file into the window to import.
Load Video Files to HandBrake
Step 3. Select an output format from
Presets
in the upper area > Click
Import SRT
to import the subtitle file you've prepared.
Put a checkmark in the box of
Burn In
> Click on
Browse
button to set an output directory >
Start Encode
.
Hard Code Subtitles in HandBrake
#Adding Subtitles to Videos in VLC.
Step 1. Free download and install VLC media player on your machine.
Step 2. Open VLC > click
Media
in the upper left corner of the toolbar.
Select
Convert/Save
from the dropdown list (or simply use the shortcut:
Ctrl+R
).
And there comes a dialogue box for adding subtitles.
Step 3. Click on the
+Add
button to import your video file.
Check the box of
Use a subtitle file
and click
Browse
to add the subtitle file you will hardcode.
And then select on
Convert/Save
for the next step.
Add Subtitle File to VLC
Step 4. Click on the wrench icon in the
Profile
entry to modify subtitle mode.
Click
Subtitles
tab > check the box of
Subtitles
> and choose a DVB subtitle in the codec entry.
Check the box of
Overlay subtitles on the video
> Save.
Hard Code Subtitles in VLC
Step 5. Set directory up and click
Start
to get the conversion started.
How Do I Fix Delayed Subtitles in VLC?
If you happen to VLC subtitle delay during playback, you can:
Press G key to speed up subtitles by 50 ms.
Press H key to delay subtitles by 50 ms.
Or you can turn to
Track Synchronization
by clicking
Tools
at the upper ribbon.
And input an accurate delay value in the field of
Subtitle track synchronization
.
Note: The troubleshooting of VLC subtitle delay mentioned above only works with soft subtitle/external subtitle.
How to Add Subtitles to Video in iMovie
Considering the fact that you are unable to upload subtitle files to a video via
iMovie
, yet you still get a chance to caption your video using iMovie (for macOS)
Titles
feature.
Step 1. Launch iMovie and build a new project using Movie template
Step 2. Import your source video and drop it to the timeline.
Step 3. Navigate to the
Titles
tab above the browser. Choose a title and drag it to the timeline, above the frame where you want the subtitles to display.
Step 4. Change the duration, font, font size, font color and, others in the
Title settings
above the viewer.
Step 5. Share the finished video to social networks or save it to your computer.
iMovie Titles feature
How to Add Subtitles to YouTube Videos
YouTube allows all content providers to have their videos captioned, which is a good way to make content more accessible, improve traffic, and rankings.
YouTube does support automatic captions that are generated by algorithms on the basis of the video's audio.
However, auto-generated subtitles are not always accurate as you expected.
This follows a complete guide of how to put subtitles to a video in 3 different ways on YouTube Studio.
Add Subtitles to YouTube Videos in 3 Ways
#Upload a Subtitle File for YouTube Videos.
Step 1. Sign in your YouTube Studio. On your YouTube Studio, click
Subtitles
under the sidebar on the left.
Choose the video you will add subtitles to > click
ADD
on the far right of the entry.
Step 2. Now, you will go for
Upload file
and there are two options to upload a subtitle file.
If your subtitle file has timecode, select
With timing
(and go to Step 3).
If your subtitle file only has texts of the speech without timecode, opt for
Without timing
(and go to Step 4).
Note: You should upload a YouTube supported subtitle file format, such as .srt, .sbv/.sub, .mpsub, .lrc, .cap, .smi, .ttml, etc.
Upload a Subtitle File YouTube
Step 3. If your subtitle file uploaded has both text and timecode, YouTube will organize your subtitle file according to the timecode you set.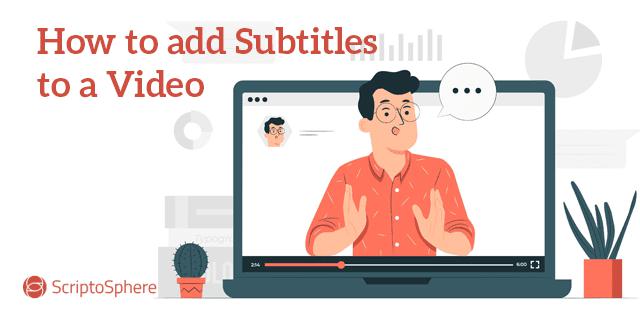 i would like to know how do you guys study mandarin chinese? i'm thinking of trying out new methods #studytwt #langtwt

— luna ♡ Sat Mar 27 21:17:10 +0000 2021
Furthermore, you can adjust the subtitle positions and durations on the timeline to ensure that subtitles synchronize with their corresponding spoken sound.
Fine-tune the Subtitle File with Timecode
It is recommended to make a subtitle file (with timecode) like this:
1
00:00:01,680 --> 00:00:02,615
[Music]
2
00:00:03,615 --> 00:00:04,804
Hi guys welcome back to my channel
3
00:00:05,000 --> 00:00:06,804
I hope you guys are having a great day
Step 4. If you upload a subtitle file without timecodes, subtitles will be placed in a box.
Check your subtitles for spelling errors in the box. Let's say everything's OK, click on
ASSIGN TIMINGS
.
Subtitles and video will be synchronized automatically over time.
Line up Subtitles automatically
Note: Your subtitles must be in a language supported by YouTube speech recognition technology and in the same language of your video.
It is recommended to make a subtitle file (without timecode) like this:
[Music]
Hi guys welcome back to my channel.
I hope you guys are having a great day.
#Type and Auto-sync Subtitles in YouTube.
The second mode to add subtitles:
Auto-sync
.
It's
Similar
to the way that we add a subtitle file without timing to a video as before.
However, here you have to type all the things that are spoken in the box.
You don't have to care about formatting if you don't have a transcript file.
Once you have already inputted everything, click on
ASSIGN TIMINGS
. Subtitles and videos will sync automatically in a while.
#Create Subtitles for your YouTube Videos (Recommended).
The third mode of captioning:
Type manually
.
It's
Similar
to the way that we add a subtitle file with timecode to a video. Move the play head to the place where you will add subtitle and click
+CAPTION
on the top-left corner.
Type what's spoken in the video to the field. And subtitles will be added to the timing you set.
Note that subtitles timing could not be accurate as you expected.
While you can hover the cursor over the subtitle in the timeline and adjust subtitles timing on your own.
Once captioning is done, click
PUBLISH
.
How to Add Subtitles to Facebook Videos
Let's say your Facebook video has no subtitles displayed, your content could lose a lot of engagement and impression because people won't be able to hear what you are saying with the sound off.
To make your video get more accessible, you can catch up with the way of captioning your Facebook video in this section.
Step 1. Log in your Facebook and upload your video to Facebook by clicking
Photo/Video
at the very beginning.
Step 2. Click
Subtitles & Captions (CC)
at the right side in the pop-up window.
Step 3. Choose a language of your video and click
Auto-Generate
,
Write
or
Upload
.
It's suggested that go for
Auto-Generate
. Facebook will automatically add subtitles to video very quickly.
Step 4. Once the auto-captions is added, you can modify the detail and timing of the caption. Then click
Save Draft
to confirm changes.
Step 5. At last, choose your default language and click
Publish
. Subtitles will be uploaded to Facebook in a while.
Add Subtitles to Facebook Video
How to Add Subtitles to Video Online
Browser-based subtitle makers have their fans either. The significant edge that online subtitle adder has is convenience.
You don't need to download extra apps to your computer. And they are accessible anywhere as long as there is strong internet.
This part has gathered two useful and free subtitle makers that can help you add subtitles to video easily. They are Clideo and Kapwing.
#Adding Subtitles to Videos Online with Clideo.
Step 1. Navigate to the
Clideo
via a browser like Chrome, Edge, Foxfire, etc.
Step 2. Upload your video from your hard drive, a cloud, or paste a link if it's already on social media platforms.
Step 3. If you already have a subtitle file for the video, you can upload it to Clideo and modify subtitle timings.
Also you can make it from scratch. When there is necessary, you can modify the font position, font, font size, etc. in the
Styles
tab.
Step 4. Once editing is done. Select a proper format and click Create in the lower right corner.
After a while, you are free to download the captioned video.
Add Subtitle to Video Using Clideo
#Adding Subtitles to Videos Online with Kawping.
Step 1. Go to the browser-based subtitle editor
Kapwing
.
Step 2. Upload a video file or paste a link to import video.
Step 3. In subtitle editing panel, you are allowed to create subtitles from scratch, upload a subtitle file, or enable auto-generator.
Plus, you can use the tools in the sidebar to polish the subtitle styles.
Step 4. Click
Create
to hard-code the subtitles to video or download an SRT file and upload it to social platforms.
Add subtitle to Video Using Kapwing
How to Add Subtitles to Plex
Plex is a media serving application allowing you to stream your personal content from your computer to any device and access Plex's content of video on demand.
Whether you are affected by hearing loss or just simply need subtitles to watch a match in a noisy place, Plex makes it easy to download and add subtitles to all of your media.
#Auto Download Subtitles in Plex.
Step 1. Launch and log in Plex Media Server through a web browser.
Step 2. Click on the
Settings
icon in the upper right corner and select
Languages
in the sidebar.
Step 3. In the
Languages
menu, place a checkmark in the box of
Automatically select audio and subtitle tracks
.
Select your preferred audio track, subtitle mode, subtitle language. It's recommended to pick
Always enabled
mode.
Language Menu in Plex
Step 4. Navigate to the
Agents
menu and click on
Movies
>
Plex Movie
.
Check the box of
OpenSubtitles.org
and drag it to the top of the list.
Click on the gear at the far right of this entry for preferred subtitles downloads.
Repeat this process as previously described in the
Show
category to enable subtitles for Plex's TV shows.
Agents Menu in Plex
Step 5. If auto download subtitles aren't turned on, you will have to trigger a refresh of your library for activating the OpenSubtitles agent on all your media.
Trigger a Refresh in Plex
Step 6. Enable a subtitle track before watching.
Plex Enable Subtitles
#Adding Local Subtitle Files in Plex.
Let say OpenSubtitles.org does not come with a proper subtitle file you need in Plex, you could check out other subtitle download sites and download your needed subtitle files.
Note that you should download the subtitle files that are compatible with Plex media player, including SRT (.srt), SMI (.smi), SSA or ASS (.ssa or .ass), WebVTT (.vtt).
Step 1. To enable local subtitles in plex, you have to check the box of
Local Media Assests
(Movie/TV) and top it to the in the list within the
Agents
menu as mentioned above.
Step 2. Put the downloaded subtitle file together with the associated video in the same directory.
Step 3. Refresh your media library and Plex will automatically link the subtitle file to the related video.
Do Remember to Name the Subtitle files in This Way:
Movie_Title (Release Date).[
Language_Code
].[file extension]
e.g. Weathering with You (2019).eng.srt
Show_Name SxxEyy.[Language_Code].[file extension]
e.g. Chernobyl - S01E01.eng.srt
Add Subtitles to Video FAQs
1. Subtitles vs. Closed Captions
Get confused about subtitles and closed captions? Subtitles translate or transcribe the dialogue or narrative of foreign movies, television programs, animations, etc. for local population and are usually displayed at the lower of the screen.
Subtitles Example
That said, all the audio information of a video may be presented, covering dialogue, audio effect, relevant musical cues like background music, applause, cheering, and much more.
Closed Captions Example
So, how to choose which one to use? Generally, subtitles are preferred to foreign movies or television programs that require translation of dialogue or narration. While closed captioning is usually used for online streaming. You can turn it on or off anytime, or even rip subtitles from a video using some tools. Anyway, they are substitutional for each other most of the time.
2. How Can I Put Subtitles on My iPhone Videos?
A lot of people choose to use their iPhones to shoot movies, because it is really convenient and the movie quality is pretty great. If you want to post videos online, you can use iMovie for iOS to add subtitles to your iPhone videos.
Step 1. Launch iMovie for iOS on your iPhone.
Step 2. Create a project and import your clips.
Step 3. Select the clip you want to add subtitles to.
Step 4. Tap the text icon in the lower menu.
Step 5. Choose a text effect and type your speech.
Step 6. Save the edited video and export to the Photos app.
Anyway, text otpions in iMovie for iOS are very limited. If you want to make a good-looking subtitle style, you should go for other video editing apps or even desktop application like VideoProc.
Wrap-up
Adding subtitles to videos has not been a hot potato as long as you choose a right subtitle maker and have some knowledge. If you plan to add hard burn (embedded) subtitles to video, you can opt for VideoProc, HandBrake, VLC, and iMovie. For closed caption, you can make it on YouTube, Facebook, or other free online subtitle adders like Clideo, Kawping, etc. Less noted but equally significant, Plex's subtitle feature allows you to auto download and add local subtitle files for your media.